This page is offered as a service to those pipers or drummers who wonder if the university of their choice has a pipe band which they could join.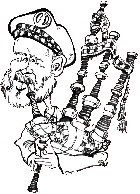 I suspect that there are hundreds of individuals and bands at or associated with various education institutions which would like to know of each other. These bands range from the casual to the superb. To be listed, your band need not be formally recognized as an institution band, but merely be the local band of choice that has a tradition of welcoming participation from the students and faculty from the institution.
You can have your band added to this list if you send e-mail (alistair@fraser.cc) to Alistair B. Fraser. If your band has a home page, merely provide me with your URL and the URL of the institution. If it does not, provide the name of the institution, the name of the band, and a means of reaching the band (names, phone, e-mail, etc.).
Last update was on Feb. 9, 2003


Australia


Canada


Germany


United Kingdom


New Zealand


South Africa


United Kingdom


United States of America

H i g h S c h o o l s

California

Fairfield HS, 205 E. Atlantic Ave., Pleasanton, CA. 94588

Glendora HS, 1600 E. Foothill Blvd., Glendora, CA. 91741

Santa Cruz HS, 415 Walnut Ave., Santa Cruz, CA. 95060

Foothill HS, 4375 Foothill Rd., Pleasanton, CA. 94588

Uplands HS, P.O. Box 1239, Uplands, CA. 91785

Florida

Dunedin HS, 1651 Pinehurst Rd., Dunedin, FL. 34698

Dunedin MS, 896 Union St., Dunedin, FL 34698 Dunedin Middle School Pipe Band

Riverview HS, 1 Ram Way, Sarasota, FL. 34231

Lake Wales High School, Highlander Band, 1 Highlander Way, Lake Wales, Florida 33853

Illinois

Dundee-Crown HS, 1500 Kings Road, Carpentersville, IL. 60110

Indiana

Highland HS, 2108 E. 200 N., Anderson, IN. 46012

Kentucky

? HS, 1601 Columbia Ave., Glasgow, KY. 42141

Jefferson HS, Old Six Mile Ln., Jeffersontown, KY. 40299

Maryland

Calvert HS, Dares Beach Road, Prince Frederick, MD 20678, Band Director: Ben Williams, (410) 535-7333, chspipeband@hotmail.com

Rockville HS, 2100 Baltimore Rd., Rockville, MD 20851

New Jersey

Governor Livingston HS, Berkeley Heights NJ: Highlander Marching Band

New York

Archbishop Molloy HS, Queens NY

Scotia-Glenville Pipe Band; 10 Prestige Pkwy; Scotia, NY 12302
Director: Maureen Connor 518-374-6034

Xaverian HS, Brooklyn NY

North Carolina

Scotland HS, P.O. Box 1049, Laurinburg, NC 28353

Statesville HS, 474 N. Center St., Statesville, NC 28677

Pennsylvania

Liberty HS, 1115 Linden St. in Bethlehem, PA. Grenadier Band

South Carolina

Abbeville HS, PO Box 927 Abbeville, SC 29620. E-mail to Amanda Hershberger, plaidmickey@hotmail.com

Texas

Bel Air HS, 731 N. Yarbrough St., El Paso, TX 79915, TX. See, http://www.geocities.com/belairpipeband

St. Thomas Epis. HS, 4900 Jackwood, Houston, TX

Utah

Ben Lomond HS, 800 Scots Ave., Ogden, UT 84404

Payson HS, 1050 S. Main, Payson, UT 84651

Vermont

Saint Johnsbury Academy , 1000 Main Street, St. Johnsbury, Caledonia County , Vermont 05819, phone 802-748-8171: The Graham Highlanders of St. Johnsbury Academy

Washington

Shadle Park HS, 4327 N. Ash St., Spokane, WA. 99207

Shorecrest HS, 5343 25th. Ave. N.E., Shoreline, WA. 98155
Scholarships


Alma College, located at Alma, Michigan, is reputed to offer scholarships for pipers. Alas, there no longer is a pipe band in the vicinity of the college.

Highlands Pipes and Drums of Cullowhee (western North Carolina) offers a scholarship in memory of one of its members.

Iona College, New, Rochelle, N.Y. offers scholarships for pipers (and drummers?). See the discussion above under Iona College.

Lyon College, Batesville, Arkansas offers scholarships for pipers, drummers and dancers. See the discussion above under Lyon College.

Monmouth College, in west central Illinois, offers two piping scholarships per year and one drumming scholarship every other year. For further infomration, contact Dick Valentine, Office of Admissions at (309) 457-2131. Also, see the discussion above under Monmouth College.

Manhattan College Pipes and Drums offers scholarships for piping and drumming. See the discussion on their site under Recruitment.

St. Andrews Presbyterian College, located at Laurinburg, North Carolina offers scholarships for pipers, drummers and dancers. See the discussion above under St. Andrews Presbyterian College.

The College of Wooster, located in Wooster, Ohio offers minor scholarships for pipers, drummers, and highland dancers. See the discussion above under Wooster College.


Useful links:



Gaelic and Gaelic Culture offers a wealth of general Gaelic information.
The Bagpipes go to the Movies provides a list of movies in which the bagpipes have either appeared or been heard.


Click on the Fraser Clan
Crest Badge
to go to the
domain of
Alistair B. Fraser.
alistair@fraser.cc